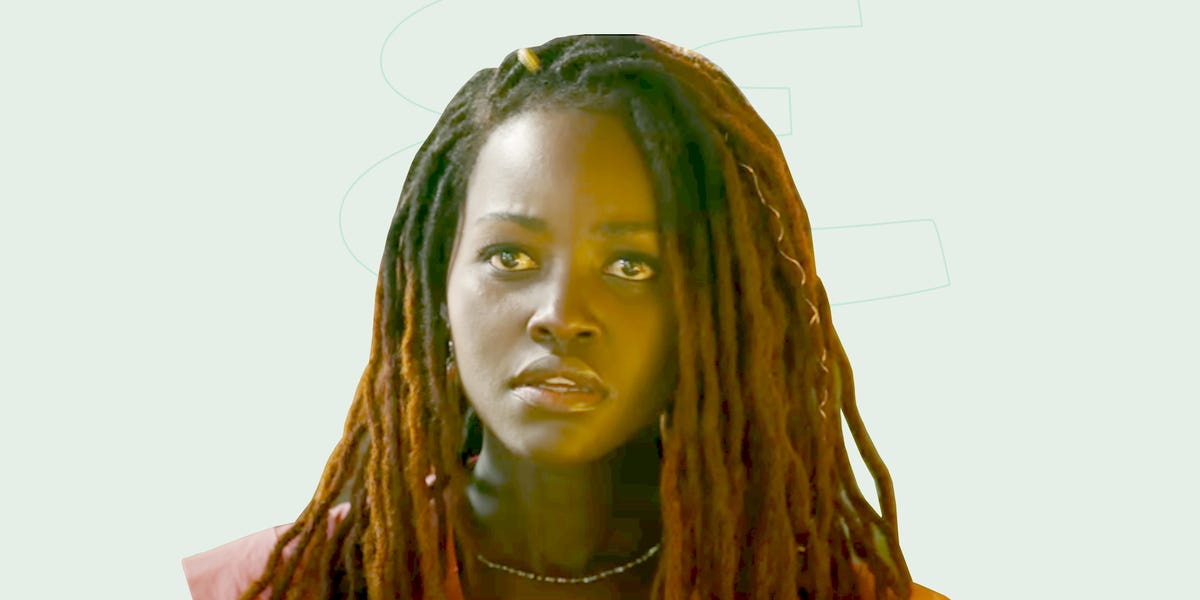 As we gear up to welcome Black Panther: Wakanda Forever on November 11—and we are gearing up—Hollywood Records and Marvel Music have treated us to a few tracks from the movie's upcoming soundtrack. Yes, that includes that spectacular Tems cover from the Comic-Con Marvel teaser and Rihanna's first song in over six years.
As the real world mourns the death of Black Panther actor Chadwick Boseman, so does the nation of Wakanda in Black Panther: Wakanda Forever. Early reactions to the film, following its Hollywood premiere last week, praised the respect and honor that Wakanda Forever showed toward Boseman's legacy, with many critics citing the power of the film's music as well. Along with a cover of Bob Marley's "No Woman, No Cry" by Nigerian artist Tems, the upcoming soundtrack also features Rihanna's powerful new ballad, "Lift Me Up." The track is a moving tribute to Boseman, co-written by Tems, director Ryan Coogler, and composer Ludwig Göransson. "After speaking with Ryan and hearing his direction for the film and the song, I wanted to write something that portrays a warm embrace from all the people that I've lost in my life," Tems explained in a press release for the new single. "I tried to imagine what it would feel like if I could sing to them now and express how much I miss them. Rihanna has been an inspiration to me, so hearing her convey this song is a great honor."
Two other songs from the upcoming movie's soundtrack have also been released, "A Body, A Coffin," by Amaarae and "Soy" by Santa Fe Klan." Unlike Tems and Rihanna's tracks, the two additional songs feature more upbeat sounds; "A Body, A Coffin" soars with a body-moving Afrobeat lean while "Soy" is a hard-hitting Spanish rap track. The soundtrack will also feature Burna Boy, Snow the Product, E-40, Stormzy, Fireboy DML, Tobe Nwigwe, Future, PinkPantheress (of course), and many international artists from South Africa, Mexico, and Nigeria.
Black Panther's 2018 soundtrack was curated by Kendrick Lamar and featured artists like SZA, Travis Scott, and The Weeknd. And Black Panther: The Album trended immediately when it dropped, with over eight songs charting on the Billboard Hot 100 just over a week after the movie's release. The album also won two Grammy awards, one being for the score and the second for Best Rap Performance for "King's Dead" by Jay Rock, Kendrick Lamar, Future, and James Blake. Kendrick Lamar received widespread praise for his curation of the film's first soundtrack at the time.
Though it appears so far that the upcoming collection was procured without Lamar's involvement, the soundtrack is still produced by Oscar Emmy, and Grammy-winning composer Ludwig Göransson, who also spearheaded the prior set. "Ryan and I talked about the importance of creating an immersive journey of sound and voice," Göransson said in a press release. "If we used a song in the film, we wanted it to be the entire song, and to be connected to the story. Thematically, we wanted to move the audience from grief to celebration. When you listen to the soundtrack, you can close your eyes and relive the experience of the movie. That was the intention."
Black Panther: Wakanda Forever will premiere on November 11. Check out the released cuts from Tems, Amaarae, and Santa Fe Klan below.
Ammal Hassan is a writer and Esquire's Snapchat Editor. She covers all things culture with a focus on music and pop culture. She is from Nairobi, Kenya and lives in New York City.
Josh Rosenberg is an entertainment writer living in Brooklyn, keeping a steady diet of one movie a day; his work can be found at Spin, Insider, Vibe, and on his personal blog at Roseandblog.com.
This content is imported from OpenWeb. You may be able to find the same content in another format, or you may be able to find more information, at their web site.