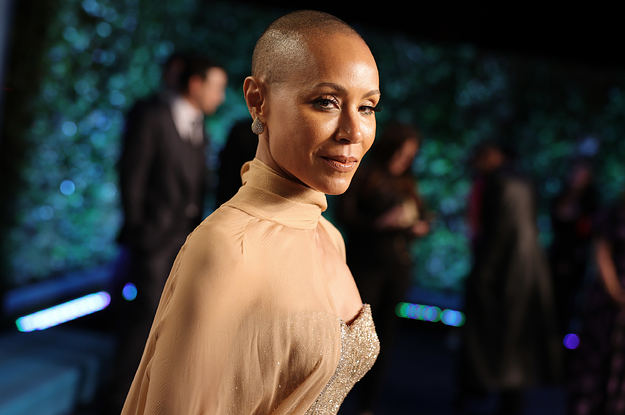 "I don't know that Chris Rock or whoever wrote that joke knows what alopecia is, but I do think that it's a moment of reflection and understanding of how to support those who suffer from it," Adams told BuzzFeed News. "It's so hard to lose your hair, and it's not just Hollywood. Society and the media put so much pressure on appearance, and hair is a really big part of that. So when you lose it, it's like you're losing your beauty, and for a lot of people, they're losing parts of themselves."
Adams said just earlier this month a 12-year-old girl with alopecia died by suicide because she was bullied, so the joke "stung" the alopecia community, to say the least. But she hopes that over time the incident will bring more attention and awareness to the condition rather than the slap itself.
"Will Smith. I get it, you saw Jada's face and reacted. But what if you saw Jada's face and you reflected," Adams said. "What if you took the opportunity to turn a moment of ignorance into a moment of awareness, education, and advocacy."
"It's already hard, and now it's much harder"
For Jassica Langley, founder of Alopecia Free, which offers natural products to help treat alopecia, the Oscars event will erase much of the progress many people have made in terms of embracing their hair loss.
"Jada not only owned her self-confidence by sharing with the world that she has alopecia, but she ended up going to a major award show without wearing a wig or scarf. That is bold, and I commend her for that," said Langley, who experienced alopecia areata for about three years before her hair began to regrow. "It's hard enough to just gather up the self-love and confidence to go outside without a wig or scarf, but then to have someone point it out on live national TV — I can't imagine the pain and embarrassment."
Now, she feels others with the condition will be "more apprehensive about going outside in their true form … now that the word alopecia has been associated with something negative on a global platform."
"As a woman who suffered from hair loss and shaving off all of my hair, I would get weird looks and mean comments on a regular basis. People have all sorts of assumptions about individuals who have lost their hair," Langley told BuzzFeed News. "Even though I was able to grow my hair back from alopecia, there are still lasting wounds and trauma."
She said this kind of attention to the condition just "brings things to a different level. It's already hard, and now it's much harder when you see that celebrities are making fun of people with a hair-loss condition."
"Maybe now I won't receive stares as much"
Chrissa Kaselis, a National Alopecia Areata Foundation support group leader in Boston, thinks Rock's joke may actually do more good than harm for the alopecia community.
"This incident, although it may not be in the best of light, has brought awareness of alopecia to the world. Maybe now I won't receive the stares as much as I have been for the past 25 years of my life," said Kaselis, who considers her alopecia areata "a true blessing." "Maybe this incident has educated those who do not have a clear understanding of alopecia or had even heard the word before."
Kaselis told BuzzFeed News she's been called G.I. Jane quite a few times in her life and that she's never been offended by it, but she said the condition affects everyone differently on a physical, mental, and emotional level.
"Having had alopecia for over 25 years now and being a support group leader for those with alopecia, I have seen my fair share of the trials and tribulations it brings," Kaselis said. "Let's be supportive of one another, care for one another, love one another, and understand that everyone is battling something, whether it's on the inside or the outside.
"Be kind — it really matters."