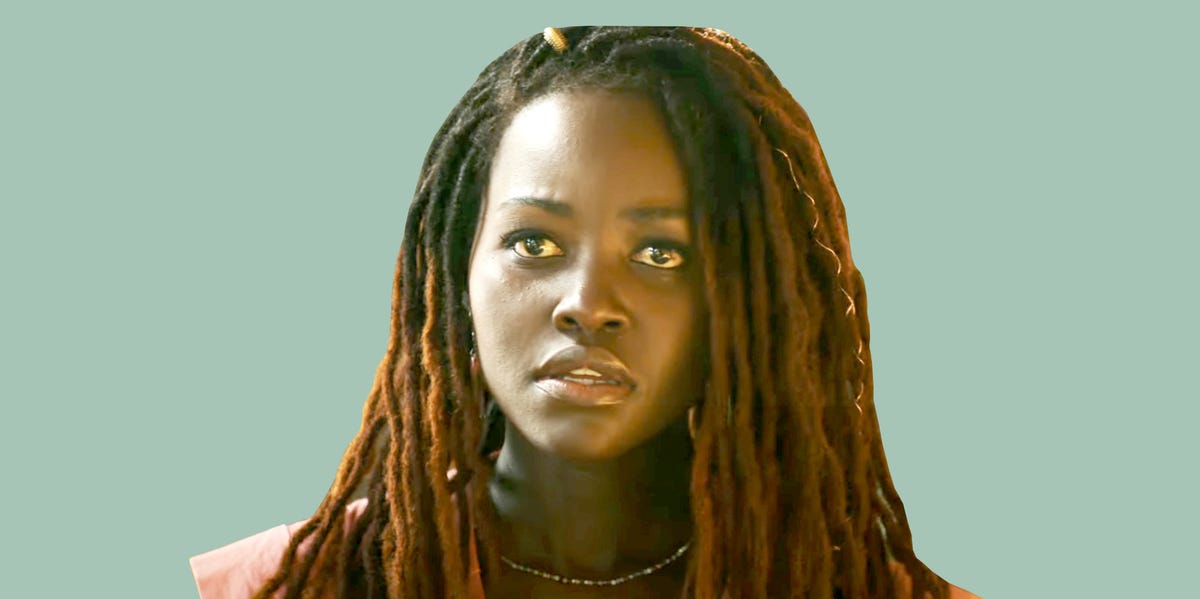 All right, everyone, time to stop what you're doing because a full-length trailer for Black Panther: Wakanda Forever is here.
The newest look at the Marvel Cinematic Universe film, which debuts on November 11, reemphasizes the focus on the late Chadwick Boseman's T'Challa. As we glimpse what appears to be a funeral for the king, we're reminded that Wakanda Forever will show us a grieving nation. "I had to find a way that I felt like I could keep going and a way that our Black Panther family could keep going," director Ryan Coogler told EW about the trailer. "I started to come up with a film that had elements of the film that we had just finished writing, but also applied the themes that the people who were hurting just as much as me could actually perform and execute and come out on the other side whole."
Elswehere in the preview, we're treated to fresh footage of two new characters: Riri Williams and Namor. The former, who is set to continue Tony Stark's legacy as Ironheart, even suits up and flies around in the preview, giving a hearty, Wooooo! Namor, who is primed for a major conflict with Wakanda in the film, is much more menacing, save for those little ankle wings. (Coogler on the character: "I think with making these types of movies, you've got to lean into the weird stuff, or you risk missing what makes it fun.") At the very end of the trailer, we see that mystery-character-in-the-Black-Panther suit again, albeit much more than a claw this time. Is it Shuri in there? Nakia? We need answers!
Well, we just got a hint. In a recent Hollywood Reporter interview, Black Panther star Lupita Nyong'o joked that "If I told you that, I might as well just… swim into the ocean and never be seen again." Previously, she told Elle UK that fans "haven't guessed it at all." Ah! The suspense is killing us. While we wait for a final trailer for Black Panther: Wakanda Forever—one that hopefully has said answers—here's everything else we know about the film so far.
What Did the First Trailer For Black Panther: Wakanda Forever Show Us?
We saw the first trailer for the film at Marvel's Comic-Con extravaganza, which went down in late July. After a dizzying swirl of Avengers news, group cooing at Baby Rocket Raccoon, and words from Marvel's slate of A-listers, Coogler spoke about Black Panther: Wakanda Forever, and the crowd fell silent. When Ryan Coogler talks, everyone listens.
Coogler told a loving story about his last time at Comic-Con, when he showed the first footage of 2018's Black Panther to a rapturous audience. Boseman sat next to him, gripping his arm so hard that it hurt. Coogler said that he could feel Boseman's hand, still, speaking to the crowd last night. To hear Coogler and Wakanda Forever's cast speak about Boseman and the 2018 Best Picture nominee would've been enough. Of course, though, given that Wakanda Forever is set for a November 11 release, Coogler treated fans to the film's first trailer.
Opening with a soft cover of Bob Marley's "No Woman, No Cry" that slowly morphs to Kendrick Lamar's "Alright," Wakanda Forever's preview seems to catch up with a nation in mourning. Now, we still don't know how Wakanda Forever will pay tribute to Boseman and T'Challa, but Coogler and company will surely treat the loss with the respect he deserves. In the preview, we briefly glimpse T'Challa's face etched on the side of a building. Letitia Wright's Shuri and Angela Bassett's Ramora appear devastated, with the latter tasked with healing Wakanda and its people.
Now, you know there has to be some obstacle in the mix, right? This is when we first met Namor the Sub-Mariner, played by Tenoch Huerta. In the comic books, Namor is the King of Atlantis, gifted with just about every sea-related power you can think of. By the looks of the trailer, Atlantis and Wakanda will somehow be thrown into conflict with each other. We wouldn't call Namor and the Atlanteans villains, though. If Black Panther taught us anything, it's that Coogler can make you question the morality and motivations of two opposing sides. See: the way Michael B. Jordan's Killmonger criticized Wakanda for not helping those in need elsewhere in the world, despite its resources.
Elsewhere in the trailer, we glimpse Dominique Thorne's Williams. Plus, Winston Duke's fan-favorite hero, Mbaku, also pops up several times in the trailer, looking like he'll play a significant role in the battle against the Atlanteans. Guess we'll find out in November.
This content is imported from OpenWeb. You may be able to find the same content in another format, or you may be able to find more information, at their web site.