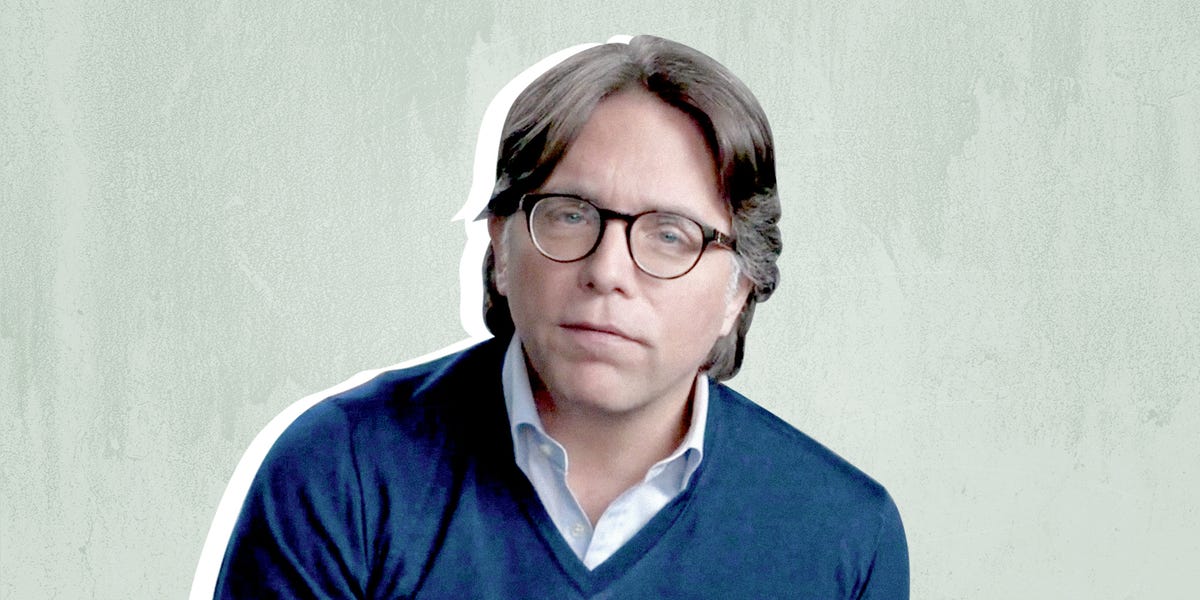 HBO's The Vow is back for Season Two this fall—and thankfully, the founder and leader of NXIVM has already been found guilty and sentenced to life in prison.
After the crumbling of his illegal pyramid scheme Consumers' Buyline in 1996, Keith Raniere founded self-help organization NXIVM in 1998. The first season of HBO's documentary illustrated how Raniere, who was called "Vanguard" within NXIVM, amassed a large following and a harem of women for himself in Clifton Park, NY over the years. Armed with a god complex and pseudo-science, Raniere's foundational Executive Success Programs sprawled many subgroups over time, such as the men's only group called Society of Protectors, women's only group called Jness, and eventually DOS, the secret women's group that would domino the entire organization in 2017.
After a New York Times story exposing the branding and slavery rituals within DOS—which stands for Latin phrase Dominus Obsequious Sororium, and can be roughly translated as "lord over the obedient female companions"—ran in October 2017, media buzz and a floundering member base drove "Vanguard" and a small group of his most devoted followers to Mexico. But in February of 2018, a complaint was issued in federal court requesting an arrest warrant for Keith, and in March he was arrested and deported back to New York.
Raniere pleaded not guilty to the slew of crimes he was charged with, and in June of 2019, was convicted by a Brooklyn jury of all counts against him—racketeering, sex trafficking, forced labor conspiracy, and wire fraud conspiracy—in less than five hours. He faced a mandatory minimum of 15 years imprisonment and up to life in prison. On October 27, 2021, he was sentenced to 120 years in prison after fifteen former NXIVM members, including India Oxenberg, delivered victim statements in court. As the Times Union reported from the sentencing hearing:
Keith Raniere professed his innocence in court, claimed the victims were lying in their statements about him and then said he was "deeply remorseful."
"I am truly sorry. It's still painful," Raniere said.
More than a dozen victims slammed the NXIVM leader as a manipulative and self-absorbed "monster," "parasite" and psychological "terrorist" who sexually preyed upon a 15-year-old Mexican girl, and tore her family apart.
"I still hear his voice in my head, and it continues to be a daily struggle," said the woman, now 30, in the first of 15 victim statements to be offered in the federal courtroom in Brooklyn.
Raniere is currently serving his sentence at maximum-security U.S. Penitentiary Tucson in Arizona, where he has made headlines many times since his arrival. On May 6, he sued the prison, alleging that prison officials cut short his phone calls with his attorneys, as well as prevented him from meeting with a supporter. More recently, on September 22, his attorneys filed another suit against the Justice Department and the Bureau of Prisons alleging that Raniere was attacked by a fellow prisoner and wrongfully punished for the incident.
Lauren Kranc is the assistant content strategy editor at Esquire, where she runs the brand's social media accounts and covers pop culture and television, with entirely too narrow an expertise on true crime shows
This content is imported from OpenWeb. You may be able to find the same content in another format, or you may be able to find more information, at their web site.