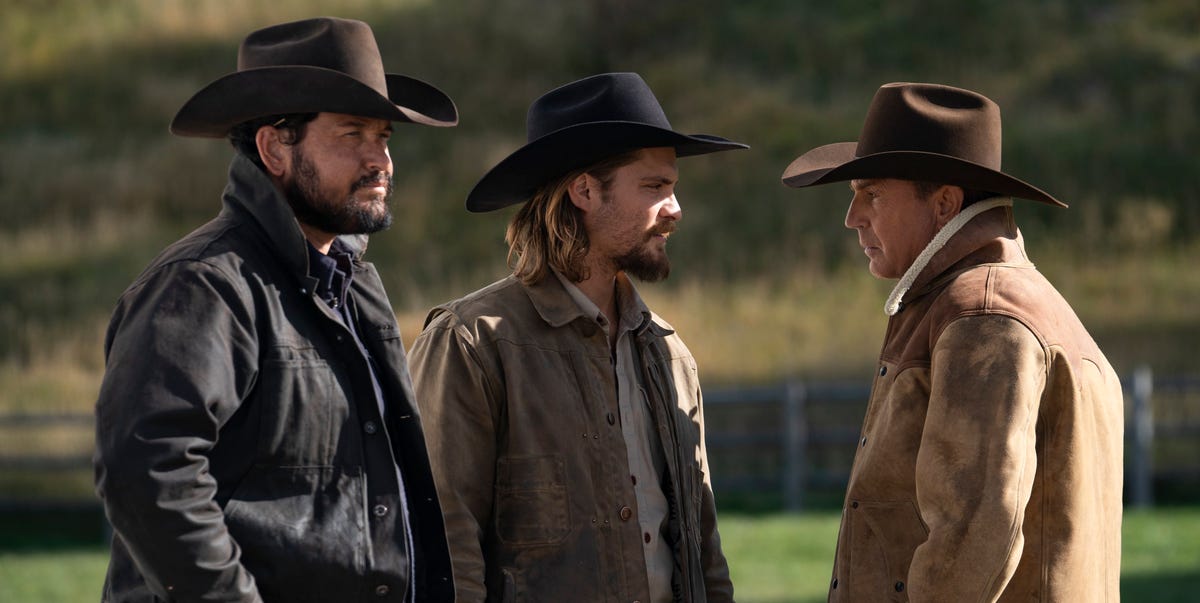 With Yellowstone's long hiatus soon ending (on November 13, to be exact), you might be craving a refresher on what's all gone down with the Dutton family out west. In case you've totally forgotten what the finale of Season Four entailed, let's sum it up succinctly: nothing good. As the most recent season of Paramount Network's sweeping western drama came to a close, Kayce was talking to ghosts, Jamie was getting his hands dirty, and Beth was tying the knot. All in all, it was a peaceful moment for the Duttons that lassoed up a good number of loose ends.
If you're more inclined to read a recap than sit through however many hours of TV again, fear not, we got you covered. But if you're looking for a way to fill the rest of your western-less October before the fifth season makes its debut, then there are four seasons of Taylor Sheridan's Yellowstone waiting for you, plus some prequel action. You just need to know where to go to find them. That's where we come in.
Where Can I Get Caught Up on Yellowstone?
Oddly enough, you can watch only the first four episodes of Yellowstone on the Paramount Network website by logging in with your cable or streaming provider. The other 35 episodes are not, curiously, available on Paramount+. So if you want to catch up, there's only one place to do it: Peacock.
Where Will the New Season of Yellowstone Be Airing?
The new season will be airing exclusively on the Paramount Network. New episodes will also be available for streaming on the Paramount Network website. Presumably, new episodes will also be on Peacock. (The fact that they will not stream on Paramount+ is as confusing to us as it probably is to you.)
How Can I Watch the 1883 Spinoff?
Now, here we go. If you're thinking, "So why the hell did I sign up for Paramount Plus?" this is why. All 11 episodes of the spinoff series 1883 (which is actually a prequel) are available to stream on Paramount Plus, including a 41-minute behind-the-scenes documentary titled 1883: The Road West. The series stars Sam Elliott and Tim McGraw as Dutton's ancestors.
When Will the 1923 Spinoff Premiere?
Production on 1923—a sequel to the prequel as well as another prequel to the main Yellowstone series—began in July 2022, with a tentative release date of December 2022. Starring Helen Mirren and Harrison Ford, 1923 will depict the Dutton family trying to survive the Great Depression during a time of Western Expansion. The series will also air on Paramount Plus.
What About the 6666 Spinoff?
Yes, believe it or not, there's a third spinoff for Yellowstone in development. Titled 6666, the series will focus on the rival Four Sixes Ranch in Texas, and feature fan favorite cowboy Jimmy. As much as it sounds like the Duttons would be flying around in hovercrafts in the year 6666, the confusing numbering trend will sadly not send the Dutton ranch over 4,000 years into the future. Though there hasn't been any release date announced, 6666 will presumably also air on Paramount+, likely in mid-2023 at the earliest.
OK, I'll Bite: What the Hell is Tulsa King?
Another creation from creator Taylor Sheridan, starring Sylvester Stallone. So far, it appears there is absolutely no tie to the Dutton family, but there's still plenty reason to be excited. This series also premieres in November.
Justin Kirkland is a Brooklyn-based writer focusing on television, pop culture, food, and the South; he is from East Tennessee.

Josh Rosenberg is an entertainment writer living in Brooklyn, keeping a steady diet of one movie a day; his work can be found at Spin, Insider, Vibe, and on his personal blog at Roseandblog.com.
This content is imported from OpenWeb. You may be able to find the same content in another format, or you may be able to find more information, at their web site.